The goal at Midwest Sport & Spine is to help you get out of pain and able to return to your normal activity as quickly as possible.  We do this in a multi stage approach.  First, we will utilize diagnostic musculoskeletal ultrasound (MSK US) to evaluate your injury.  MSK US has become the primary form of imaging in sports medicine, allowing for real time assessment of an injury.  In many cases equal to or better than MRI.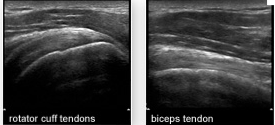 Second we will teach you about your condition, and what you are able to do at home, such as activity to avoid, and exercises to perform.  Finally,  we offer you individualized treatment that will speed your recovery incorporating techniques such as Active Release Technique (ART), instrument aided myofascial release, multi-planar functional rehabilitation, and various other therapies in a supervised and educational environment.  
We see patients ranging from NFL, Olympic, NBA, and NCAA athletes to those needing treatment following a surgery.  Patients with a longer history of pain generally notice a significant improvement within 2 weeks.  By 4 weeks most patients in chronic pain are near full resolution of their symptoms.  Patients presenting with acute (new onset) pain problems recover much more rapidly than those with chronic pain, and may only require 1-2 treatments to resolve their pain.